Our Purpose
Building sustainable futures with the world's most precious resources – WATER and PEOPLE.
Our purpose is built around ensuring that we take care of our people, who are the backbone of our organization. By doing so, we create an environment where everyone can fully focus on what matters most to human life—water. We believe that by investing in the well-being of our people, we can make a real difference in the world and create a brighter future for generations to come.

Commitment to

Water

Our commitment to the water industry is unwavering. For more than 60 years, we have solely focused on bringing clean, safe drinking water to communities while helping protect public health through essential wastewater and water reuse infrastructure. Water is a vital and precious resource required for humanity's collective survival. Our passion is water because the future is water. We're building sustainable futures…not just for us—it's for all of us.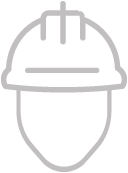 Commitment to

People

Garney is committed to valuing diverse perspectives at every level within the company and is committed to creating a sense of belonging for all our employees. We demonstrate this commitment by focusing on employee ownership; best-in-class benefits; safety; diversity, equity, inclusion, and belonging (DEIB); employee development; and community involvement.